Today, safety and security are one of the most important aspects of a business. You need to feel confident that your entire workforce is easily identifiable when moving through your company building – trust in Identity People to get you there. Our security card holders and accessories are ideal to take your security standards one step further. Investing in our range of lanyards is a great and affordable way to enhance the safety of your personnel. Lanyards are an absolute essential for displaying access and identification cards in any workplace.
At Identity People, we're aware that you expect the most out of your investments. That's why we provide products that are high quality and multifunctional, meaning that your purchase will serve your company properly, for the long term. As a bespoke provider of lanyards, we service your business by offering products that are labelled with personnel specifications. This makes your workforce easier to identify at a glance, categorising the comings and goings of your company carefully and concisely.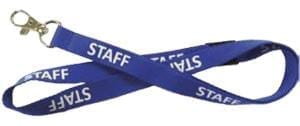 Searching for the right lanyard for your workforce? Our Staff lanyards are ready off the shelf to order.
These are printed, wholesale lanyards which are a simple and highly effective security solution. At a low cost, our staff lanyards are a perfect choice if you are looking to organise your workplace's security standards. These are woven, coloured and printed to the best level possible to serve your company at the highest standard.
Why not place your trust in the offering of lanyards at Identity People Australia? We guarantee that your business will benefit from the visual organisation that our wholesale staff lanyards can provide. At top-rate quality and professional industry prices, there's no reason not to collaborate with us for all of your security needs and solutions!