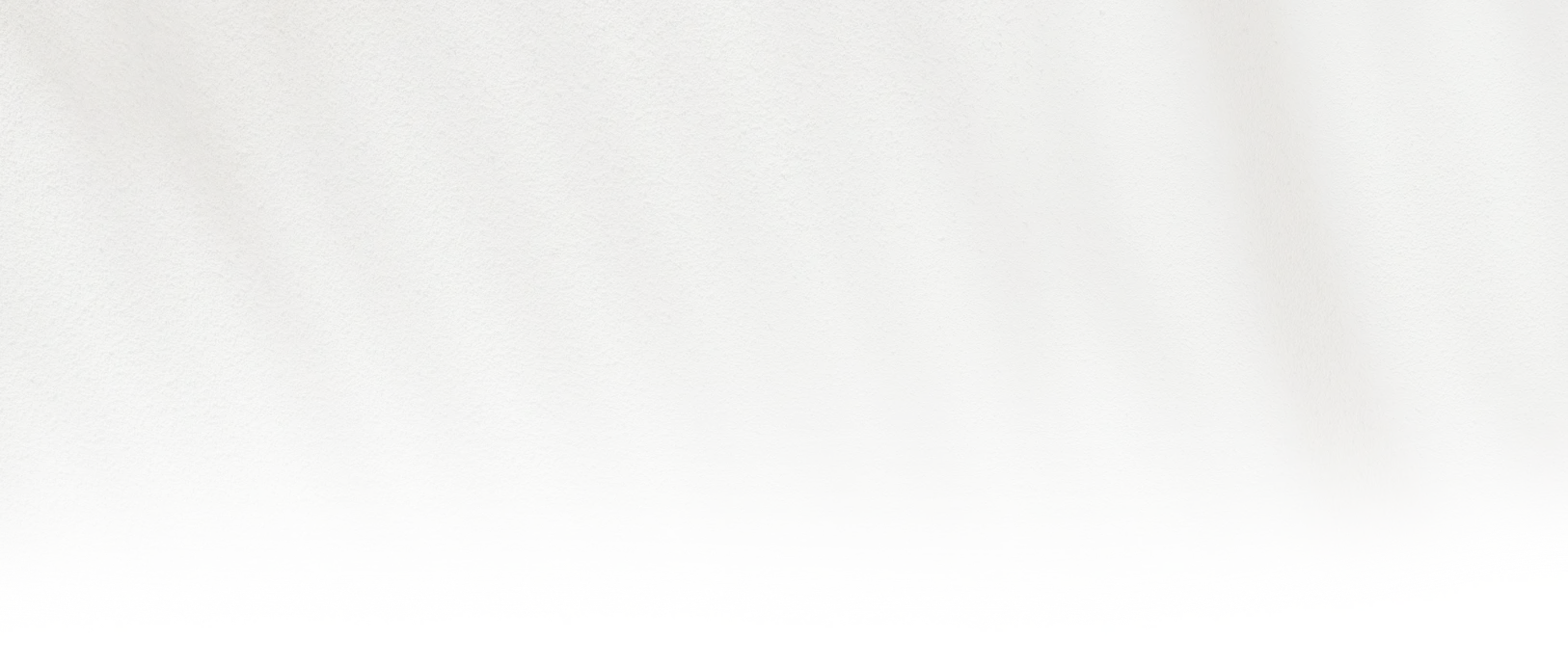 ID Card Printing Machine
A complete range of card-printing machines is available from Identity People in Australia. As a premium reseller/distributor of ID card solutions and systems, we offer our customers the best printers available on the market.
If you're looking to take advantage of our expert advice and recommendations—or if you already know what you're looking for—Identity People can help. When it comes to printing ID cards, every business and organisation has slightly different requirements. Below, you will find information and guidance on how to select the best card printing machine for your business.
We've hand-picked our range of printers to ensure they all deliver reliability, ease of use, and cost-effectiveness. We pride ourselves on providing the best-of-breed solutions, and on putting our customers' long-term printing needs at the forefront of our business decisions.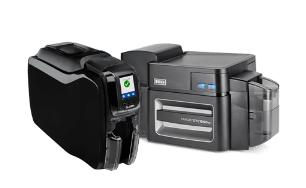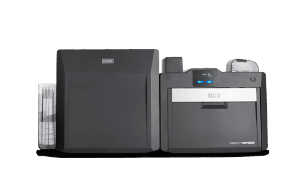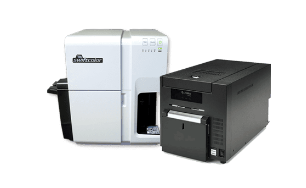 We can help you choose the best card printing machine for your organisation. Ask for a quote today!
Request a Quote
Printers from the World's Leading Manufacturers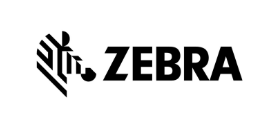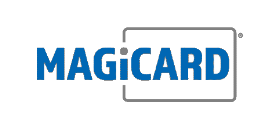 About our Printers
Different ID Card-Printing Technologies
There are two different technologies used in ID card printing: direct-to-card and retransfer. Most printers—particularly those on the cheaper end of the scale—use direct-to-card technology. Retransfer (or reverse image) technology, on the other hand, is higher quality.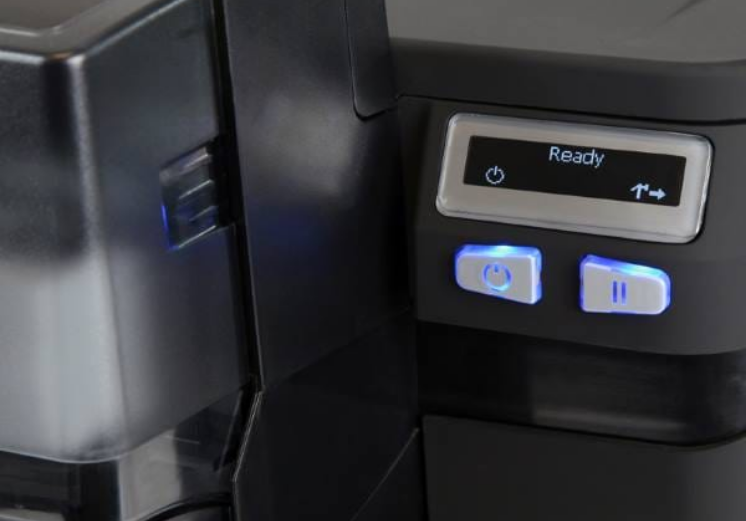 Single-sided
As the name suggests, single-sided card-printing machines print on one side of the card only. Typically more affordable and more compact, single-sided printers don't exclude additional options such as card encoding, RFID technology, or secure ID card lamination.
If customers want double-sided cards, they can achieve this by manually turning the cards over and running a second print job. If customers wish to print a batch of cards with identical backs but customised fronts, a bulk print job will ensure one side is completed, whilst also leaving the other side clean and ready to customise.
Double Sided
Printers of this type streamline your card-printing issuance. A flipper module is installed into the printer. The printer will print the front of the card, flip the card over, then print the back of the card before ejecting your freshly printed ID card into the output hopper. If your cards are going to have variable data on both sides, a double-sided printer is essential.
It is important to note that most—but not all—single-sided printers can be upgraded to the double-sided version. These upgrades are typically available via an upgrade module. Some upgrades are physical, requiring parts, whilst others are firmware-controlled and activated by special RFID ribbons.
A printer can have a variety of card-encoding options
Magnetic stripe encoding: Most printer models can have a magnetic encoder installed. This allows you to encode data on the magnetic strip on the back of the card. Cards with magnetic stripes are typically used to process club membership rewards, or in point-of-sale environments.
Contact smart chips: Some printers can have a contact smart cards reader/encoder added to them. With the help of special software, the printer will move the card encoder and embed the required data into sectors or sections of the card. External readers and devices can then read this data. With the proliferation of contactless cards, contact smart chips aren't very commonplace in Australia.
Contactless RFID card printers: RFID cards do not need to make physical contact with an encoder or reader to transfer data. With the help of specialised software, the printer will read card data or serial numbers. Data can also be stored into sectors of RFID cards for use by applications. Access control, student ID, and photocopier cards are often printed by these card printers.
Security features Available on some Printers
Watermark or HoloKote – A low-cost, out-of-the-box security feature that uses the overlay panel from a direct-to-card printer to provide a clear watermark image over the card surface. Visible when the card is tilted in the light. It adds more of a visual effect, in contrast to a clear ID card security feature.
Microtext – Retransfer printers can typically offer ID cards printed with some covert security features, including micro text: tiny text made legible by its higher print quality. Microtext adds a layer of security to an ID card without increasing the cost.
Lamination/holograms – At the higher end of the range of security features are holograms—more specifically, custom hologram options. An image can be embedded into a card's laminate film. This image is clearly visible, extremely hard to reproduce, and looks amazing. Not all card printers can have a lamination/hologram option included. Note: costs of custom holograms are very high.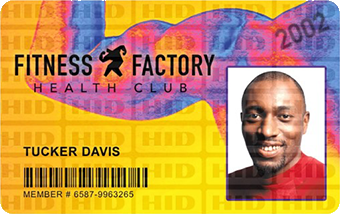 Choosing the Right Printer for your Organisation
Choosing the right printer can be overwhelming. By knowing the answers to the following questions, you can better navigate the many printers makes, models, and options available:
Will you need to print on just one side of the ID card, or will you need a double-sided card printer?
If you feel your card printing is going to change in the future and you may need to move from a single-sided to a double-sided card printer, make sure you look at a model that has field upgrade modules, allowing for a double-sided upgrade.
Will your printer be connected to a network, or will it be okay to be connected to a single PC via USB?
This is the main determinant for organisations stepping beyond the entry-level range of card printers. If you're looking to have multiple people using the card printer, ensure to consider the printing software being used and that it doesn't require further licences.
Will you need your cards to interact with other systems or devices?
If the answer is yes, you will have to choose a printer with the right encoder or technology.
There are many ways to add data to your cards, or to have them interact with other systems:
Magnetic stripe: Widely used for membership reward tracking, time and attendance systems, photocopier cost recovery systems, and in point-of-sale environments.
Barcodes: Very commonplace for libraries, ticketing, and events.
RFID Smart Cards: Mifare and proximity cards are commonly used in access control systems, photocopier cost recovery systems, and time and attendance systems.
How many cards will you print per year?
While the quality of entry-level printers has improved dramatically over the years, manufacturers still put a greater emphasis on the robustness of the higher-end models. If you're going to be printing a large volume of cards, it is definitely worth looking for a card printer that is designed specifically for that volume.
Will you need ID card security?
You can prevent the creation of counterfeit IDs with a range of technologies. Simple watermark features may be suitable for many organisations. On the other hand, large corporations and government agencies would benefit from a printing system that can generate high-security holograms.