MATICA XID8300 Card Printer
Discover the future of professional card printing with the Matica XID8300
This powerhouse delivers over the edge vibrant prints and exceptional card printing clarity, ensuring every ID card makes a lasting impression. With its advanced retransfer technology and proven reliability, the XID8300 printer blends efficiency with top-tier quality. Elevate your business's image and card printing reliability — Choose the Matica XID8300 for superior results every time. Make your cards count.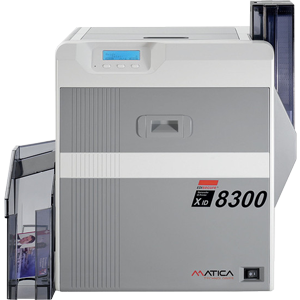 XID8300 Printer Features
Matica's XID8300 is available as a single or dual-sided printer with a bend remedy option to ensure card flatness. Its durability backed with a 3 year warranty and its high capacity ribbons (1000 images) mean it is well suited to mid to high volume card issuance applications, including access control cards or student ID cards. In addition the XID8300 includes:
300 x 300dpi printing
Robust and durable print engine
Consistent print quality on multiple card surfaces/materials
High capacity consumables (1000 images)
Up to 120 cards per hour
Scalable design and compact footprint
USB and Ethernet
Download XID8300 Brochure
Elevate your professional printing needs with the Matica XID8300 card printer. Expertly designed to deliver high-quality, reliable output, this model stands at the forefront of printing technology. The XID8300 printer not only boasts impeccable print clarity and vibrant colors but also ensures seamless operation, making it the go-to choice for businesses that demand nothing but the best.
Harnessing the innovative retransfer printing technique, the Matica XID8300 promises edge-to-edge coverage, sharp imagery, and durable card results, fit for a range of applications including ID cards, membership cards, and access controls. Its user-friendly interface coupled with advanced security features ensures that your printing tasks remain both effortless and protected.
For those seeking to blend efficiency with excellence, the XID8300 printer delivers. Experience a new dimension in printing, where quality meets convenience. Choose the Matica XID8300, and embrace unparalleled printing prowess.
Matica XID8300 Printer Specs
Side printing: Single or dual
Print method: ReTransfer Dye Sublimation
Resolution: 300 dpi x 300 dpi
Print speed: Up to 120 cards per hour
Card capacity: 200 card input, 100 card output
Warranty: 3 Years
Accepted Card Sizes:
MATICA XID8300 Options and Upgrades
Dual-sided printing
Bend remedy for card flatness
Inline magnetic stripe encoding
Inline contact chip and contactless smart card encoding
UV security printing
Inline single or dual-sided lamination
Printer cleaning kits