MATICA XID8600 Card Printer
Matica XID8600 Professional Level Printer: The Ultimate High-End ID Card Solution
Elevate your card printing with the MATICA XID8600. As the pinnacle of high-end ID card printers, the XID8600 promises unmatched clarity, vibrant colors, and cutting-edge security. It's not just a printer; it's a statement of excellence. Crafted for professionals who demand the best, every card printed speaks volumes of quality. Experience the future of card printing today with the Matica XID8600. Excellence, redefined.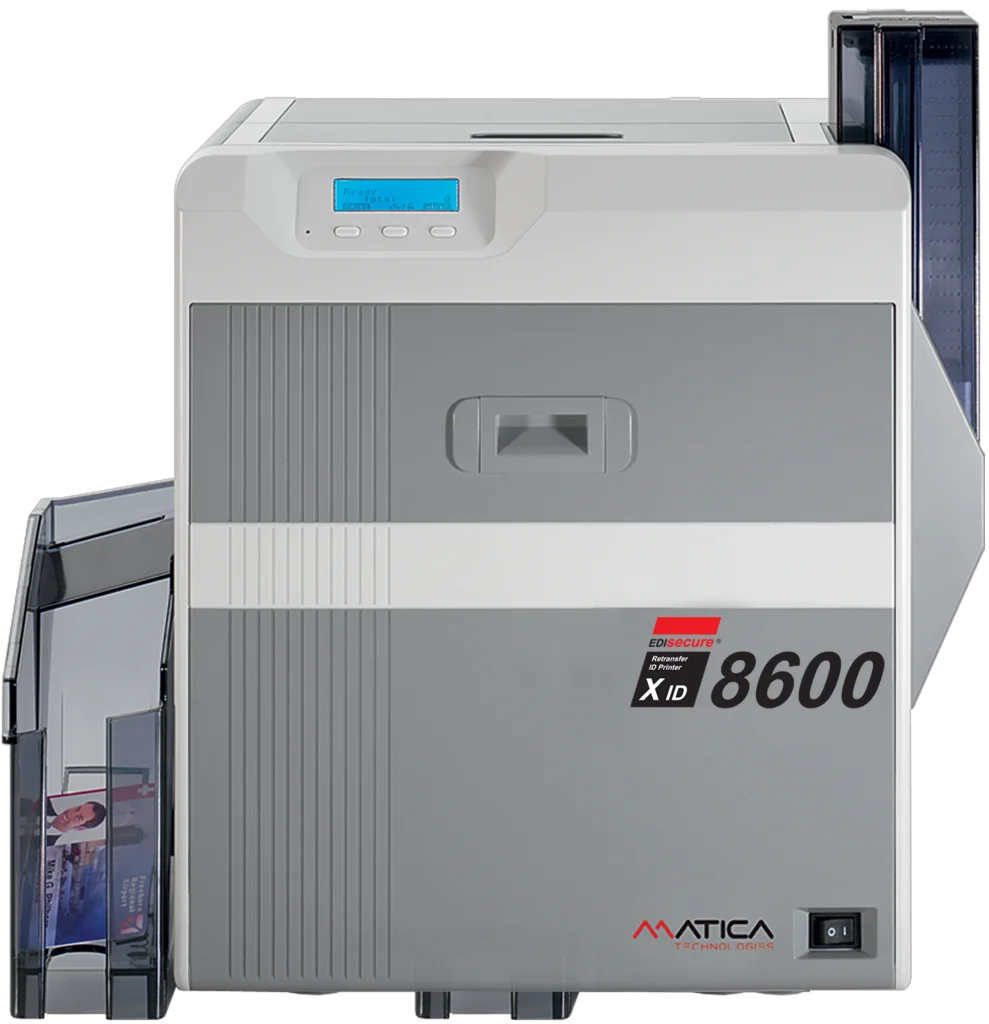 Built on the established XID series print engine, the XID8600 is durable and reliable. This, in combination with its high-end, high security print options, large capacity ribbons (1000 images) and its ability to print on durable card materials such as PC and ABS, make it ideal for high-volume, high quality ID card printing. Some key strengths of the MATICA XID8600 are:
600 x 600dpi dual-sided printing
200 card input feeder / output hopper
Robust and durable print engine
Consistent print quality on multiple card surfaces/materials
High capacity consumables (1000 images)
Security printing including microtext and UV
Up to 125 cards per hour
USB and Ethernet
Step into the world of elite card printing with the Matica XID8600 high-end ID card printer. Renowned for its superior output and unmatched precision, this printer is a game-changer for businesses that prioritize top-tier quality. The XID8600 not only promises sharp, vivid prints but is also equipped with cutting-edge technology, guaranteeing a flawless printing experience every time.
The Matica XID8600 is a testament to what high-end ID card printers should offer: clarity, consistency, and unmatched reliability. It effortlessly marries user-centric features with advanced security measures, ensuring that your cards are not just visually striking, but also secure.
With the XID8600, you're not just printing cards, you're making a statement. Experience unparalleled quality and efficiency in one sleek package.
When excellence is non-negotiable, the Matica XID8600 is the high-end ID card printer of choice. Invest in the best, and let your cards do the talking.
XID8600 Printer Specs
Side printing: Dual sided
Print method: ReTransfer Dye Sublimation
Resolution: 600 dpi x 600 dpi
Print speed: Up to 125 cards per hour
Card capacity: 200 card input, 100 card output
Warranty: 3 Years
Accepted Card Sizes:
MATICA XID8600 Options and Upgrades
Inline contact chip and contactless smart card encoding
Inline single or dual-sided lamination
Inline magnetic stripe encoding
Secure UV printing